Facebook
Twitter
Flipboard
Print
Email
close
Video
Hannity dings Kamala as audience neglects to clap
Sean Hannity and his panel of Jimmy Failla, Dagen McDowell and Sean Duffy sound off on 'Hannity' after vice president's giggle-filled day.
Following Vice President Kamala Harris' event with students from historically Black colleges and universities, critics observed the audience initially neglecting to clap for her after she was introduced.
On "Hannity," host Sean Hannity and his panel — "FOX Across America" host Jimmy Failla, and "Bottom Line" co-hosts Dagen McDowell and Sean Duffy — sounded off on the event, focusing further on the vice president's apparent affection for Venn diagrams.
Hannity characterized the situation as "another blunder-filled day" for Harris, and compared her previous Venn diagram references to a March 2022 event in St. Landry Parish, La., where the vice president spoke repetitiously about the "significance of the passage of time."
"The audience had to be reminded to clap for the vice president," Hannity said. "You really can't make this up."
KAMALA HARRIS' ONGOING ILLEGAL IMMIGRATION 'ROOT CAUSES' SEARCH TORCHED AS BORDER DETERIORATES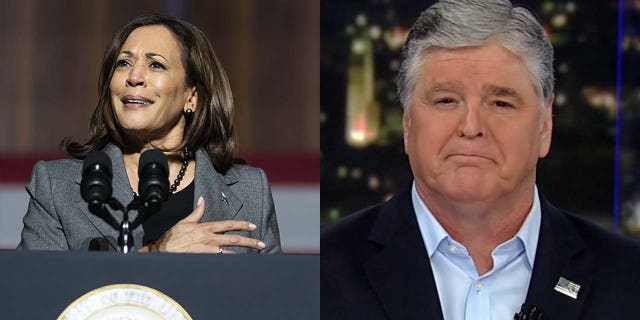 Vice President Kamala Harris, Sean Hannity (Fox News)
"They still didn't clap, then it got worse with yet another rant about Venn diagrams," he added, pointing to other clips of Harris speaking about Venn diagrams.
"I don't know what she likes better: Venn diagrams or giggling," Hannity said.
Failla riffed that the kicker to Harris' Venn diagram discussions is that President Biden must believe the term is instead "a guy named Ben Diagram."
McDowell added that Venn diagrams are a staple of elementary school education, saying that Harris liked to "talk to adults like they're children — it's really the other way around."
KAMALA HARRIS DISMISSES UNPOPULARITY AMONG DEMOCRATS AHEAD OF 2024: 'POLITICAL CHATTER'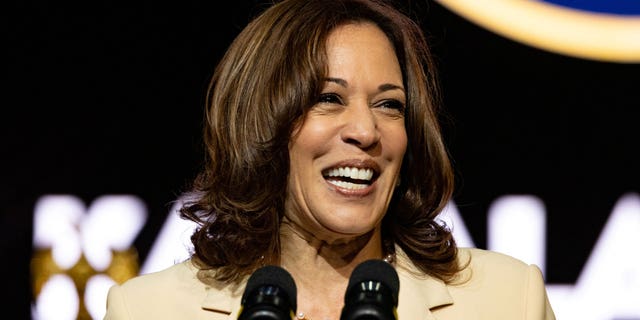 Vice President Kamala Harris (Reuters/Hannah Beier)
"She wasn't really that upset about the students clapping for her. She walked in there feeling saucy and sassy and vivacious and alive — because she's not Pete Buttigieg," McDowell said.
Buttigieg, the secretary of transportation, has been under fire for what critics see as a belated visit to the site of a Norfolk-Southern train derailment and ensuing toxic chemical disaster in East Palestine, Ohio.
Buttigieg visited the area early Thursday, weeks after the Feb. 3 incident and one day after former President Donald Trump flew in and brought pallets of his own branded water for residents concerned about chemical seepage.
CLICK TO GET THE FOX NEWS APP
On "Hannity," Failla riffed that he wanted to "correct" one observation about Harris' event, surmising that the audience did not initially clap for her entrance because it was the early afternoon and "they did not want to wake Biden."
Hannity replied he was unsure whether the prospect of a second Biden term or a Harris term in 2024 concerns him more.
"I think that's the point of the Democrats, right? They look at Kamala Harris, and she's unserious," Duffy told Hannity.
"[T]hey can't have Kamala, so they're stuck with Joe. Think about the Chinese, they watch Joe Biden, and they watch Kamala Harris. How unserious do they think we are?"
(作者:产品中心)